FEATURE
Simplified equipment installation
Simplified equipment installation
Because the system can be simplified, it is possible to reduce related electric power consumed especially in the case that the building owner may bear the cost. In principle, JTOWER's mobile infrastructure sharing solution is designed to put the higher priority to cover the entire building (including underground parking lots and back offices) and common unified antenna system is installed for all the mobile network operators who join our infra-sharing system, there is no cover area difference among the mobile network operators. op.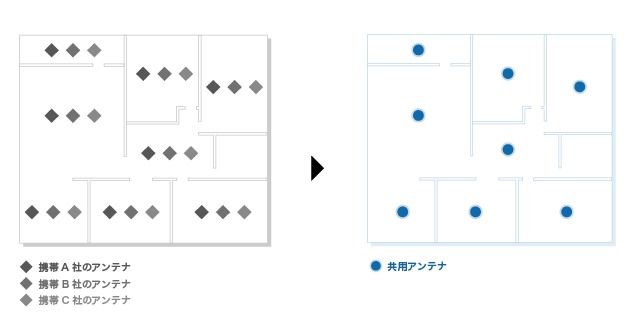 Sharing for by each individual mobile network operator
Repeaters installed in MDF rooms and EPS, antennas installed on ceilings, and other equipment may require the installation space for each mobile network operator.
JTOWER infrastructure sharing
Thanks to JTOWERY's simplified repeaters and antennas, equipment installation space and risk of damage to the building can be reduced.